You've earned it – You deserve it
Beachfront Property in St Lucia
Freehold beachfront property in St Lucia, is a tremendous asset. Landings Residences is located on one of the finest white sand beaches in the West Indies and it is uniquely, the only one with a private marina.  In addition, because there is a favorable climate with year round warmth and cooling sea breezes, St Lucia is a perfect choice for a second home in the sun. The resort has been up and running for a number of years and therefore brings owners in the optional rental pool a steady ROI each year.
With exceptional spacious dimensions, Landings Residences are airy and luxurious, with the services of a five star resort at your beck and call.
Properties Available For Sale This Month
Review Landings Residences properties currently available for sale.
A luxury Penthouse overlooking the beach and Caribbean Sea is included, a three-bedroom villa beachfront apartment and a Marina Two-bedroom apartment.
Please view the following links: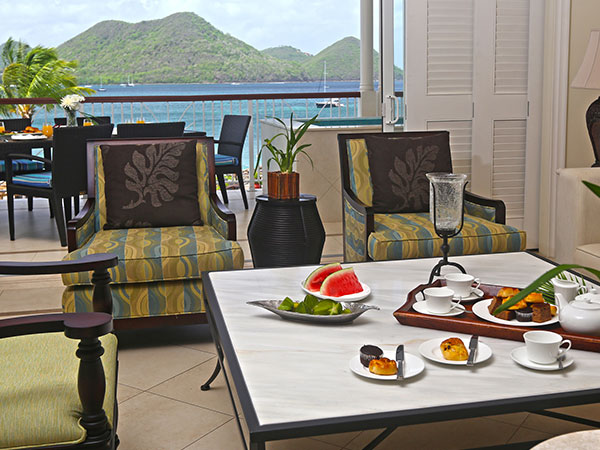 Make Money While You Sleep
With a well managed rental pool
The resort has been operating for a few years and is well known by the travel trade, thereby resulting in a good occupancy year round and with a high average rate.
This ensures that owners choosing to be part of the optional rental pool, can expect a reasonable return.
Discover a Wondrous World
Crystal Clear Waters are on your doorstep
Explore Saint Lucia! You will love it.
When Saint Lucia becomes your second home, you'll have all of this to look forward too, whenever you wish.
"The whole development is in an immaculate condition, even ten years on. The architecture is beautiful and our apartment has views over the marina, so we can watch boats come and go, something which is particularly popular with visitors."
"We discovered St Lucia after taking part in a transatlantic sailing race in 2006. Thereafter, we must have called in at nearly 20 Caribbean island but St Lucia was the pick of them. Property-wise it offers better value than Barbados. In addition, the people are incredibly warm and you will enjoy great food and nightlife. The fact the apartment could be totally managed for us when we weren't there sold it to us. Had we bought in France, we'd be constantly sorting maintenance problems and doing odd jobs. There are no worries like that at The Landings – it's run like a hotel."
"This isn't just a holiday home for us now. We know all the staff and the locals and feel part of the community. This is our stress-free holiday home from home and we love it."

"We loved the Caribbean but thought buying a property so far away from home would be fraught with difficulty. We were blown away by The Landings – especially when we discovered how easy it was to buy property on the island."
"St Lucia is idyllic. Therefore, as I was looking for somewhere to buy a second home and St Lucia was around 40 per cent cheaper than Barbados, that was that. Plus I could see there was potential for values to increase."
The beachside resort view
adminuser
2018-12-28T12:44:41-04:00
Balcony Dining
adminuser
2018-12-28T12:43:13-04:00
Just Imagine
adminuser
2018-12-28T12:42:32-04:00
Balcony Views
adminuser
2018-12-28T12:40:26-04:00
Spacious Living
adminuser
2018-12-28T12:38:51-04:00
The Garden Gate to the Beach
adminuser
2018-12-01T21:57:53-04:00
Contact us for an Informal Chat